Collective: Sensory Marketing: the game of perception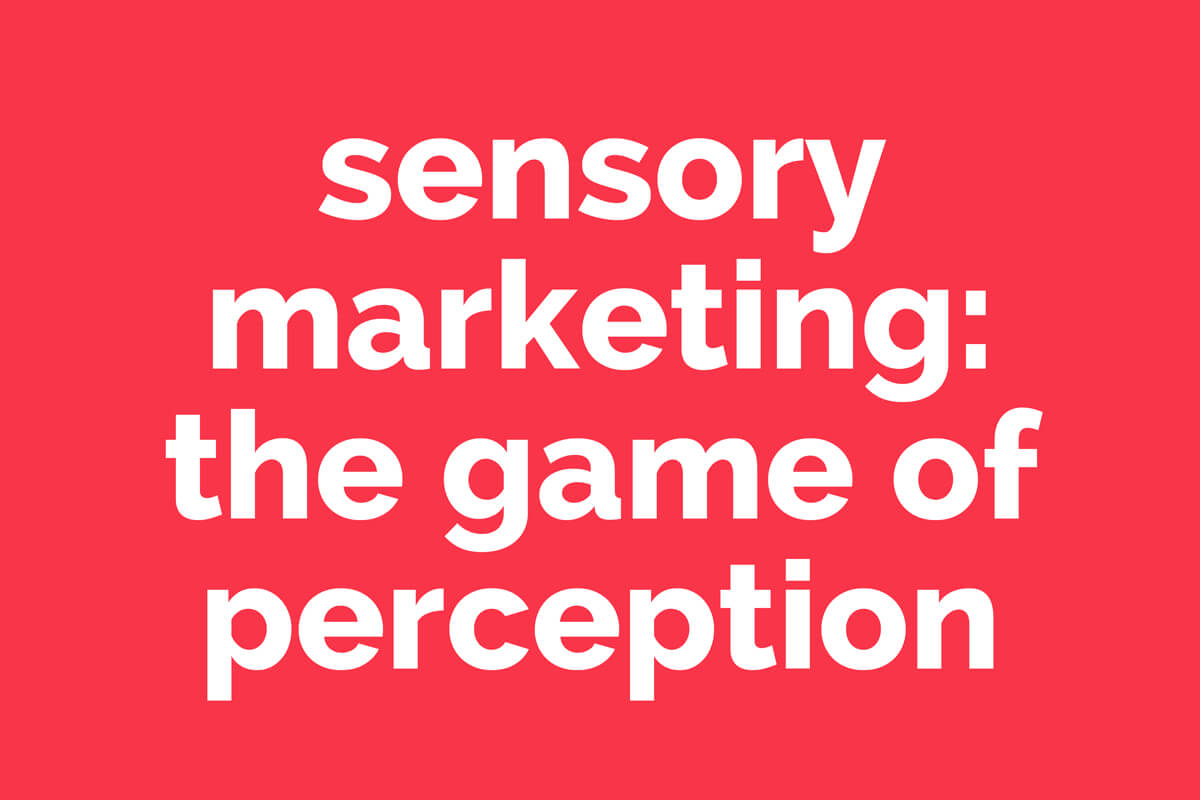 Sensory marketing is a tool that improves the perceived value of a product
The more senses stimulated, the higher the 'enjoyment' score
More and more brands offer sensory experiences that wouldn't look out of place in a science fiction novel
Touch. Sight. Taste. Smell. Sound. Without them, we miss out on important experiences. Our senses are what give us a deeper understanding of the world around us. They fire together neurons in our brain that create memories. They are vital to our perceived enjoyment of life as we know it.
When it comes to marketing, our customers are no different. Activating the 5 senses can have a profound effect on a person's experience, perceptions and behaviour. A classic example is smell memory, or what has become known as a Proustian Memory (involuntary memory). This is when your brain wires together odour with emotions. Why is this relevant to marketing? Because emotions are wired together with memories and consumers unknowingly use these instincts to make important decisions about products. Consider scented candles. You don't just pick one based on fragrance notes like Vanilla, Cinnamon or Lavender. When you smell the candle, your brain starts associating the fragrance note with past memories it's already been wired to. For example, playing at the beach during summer holidays ("Bahama Breeze"), visiting a grandparent at their country farm house (Autumn Wreath), or crisp, warm, clean-smelling bed sheets (Fresh Linen). The biological reaction is a hit of dopamine (the happy chemical) and the person feels a deep and meaningful connection with the product and more often than not will buy it.
Many industries already employ Sensory Marketing to control their customer's mood. Real Estate is one. To sell a home, the agent's job is to create a sense of homeliness. The interior decor might change completely, music might play during an inspection and perhaps one might pick-up the inviting scent of freshly baked cookies. Not only are these tactics likely to sell the home, but for more money.
In order to do this effectively in marketing and advertising, you need to think outside the box. For example, 'Sound' doesn't have to be limited to a device. It can be print too. Mosquito repellent company OFF embedded sound chips in a postcard to dramatise the risk of mosquitos. People who kept the card in their handbag or car would hear the infamous annoying buzzing sound and actively search for a mosquito. Sales of the product increased by 80%. Company Dove used a scratchy card to demonstrate how different products can dry, flake and damage the skin. Marriott Hotels use 'Oculus Rift' technology which allows guests to virtually explore new holiday destinations from their hotel room. Häagen-Dazs Concerto Timer iPhone app projects a virtual violin concerto on top of a tub while consumers wait for their ice cream to soften-up.
And this year, ASMR video (autonomous sensory meridian response) is the new buzzword. Quite simply, ASMR is a sound that people have a positive response to and many brands are teaming up with ASMR artists to create content. See Dove's award winning ASMR campaign here.
Sensory marketing will continue to play a huge role in how consumers behave and interact with product and brands.  And as technology becomes more sophisticated, brands will need to follow suit. As founder of Bompas & Parr Sam Bompas puts it: "What you're trying to do is buy time in people's brains. The more time you have to spend in someone's brain in a positive way, the more likely they are to buy your product.
Need ideas on how to incorporate Sensory Marketing into your next campaign? Ask one of our experts.