Collective: Is content still king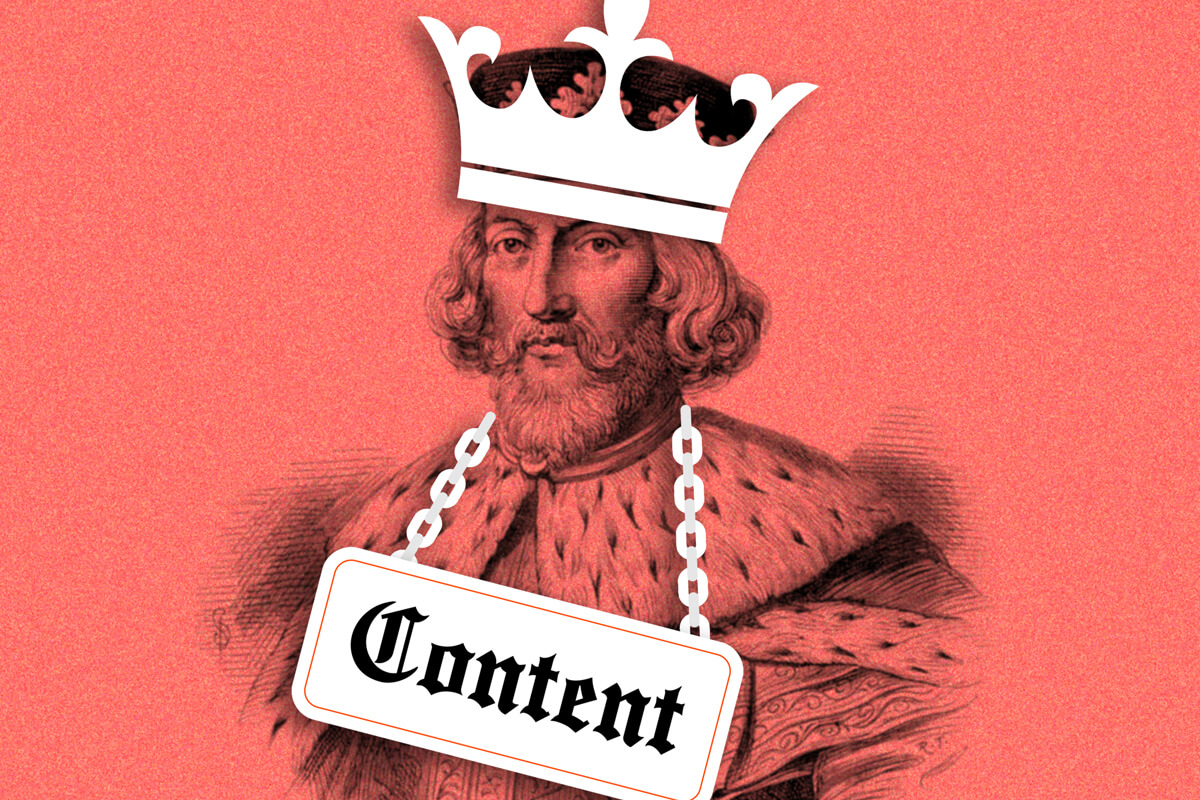 You've probably heard Bill Gate's quote "Content is King". So much that the phrase has become a hackneyed mantra continually used by internet marketers. And since the inauguration of the comment in 1996, one might now ponder on whether hinging a marketing strategy on such an old adage might be bad for business.
The answer is yes and no.
 The statement is based upon the idea that you need disruptive content – or viral content – to really thrive in online marketing. Perhaps that was once the case, but since 1996 we've all become increasingly more sophisticated in how we produce content and why; we have access to powerful consumer intel in conjunction to smarter testing capabilities to ensure performance and in some cases real-time optimisation. So, in theory, everyone has pretty good content. It's also worth mentioning that brands have achieved relatively good success by using ordinary content and changing the headline to suit a Facebook algorithm that prefers that kind of content. So, there are ways to cheat the system.
Furthermore, the 2016 Australian Sensis Social Media Report noted that the great majority of small, medium and large businesses using social media have a Facebook profile – between 79% and 89%. LinkedIn is used by more than half of medium and large sized businesses. Over four in 10 medium sized businesses use Twitter (43%), while this figure increases to 61% for large businesses. Instagram is also reasonably popular among medium (28%) and large (42%) sized businesses. YouTube (41%) has a similar penetration in large businesses. And according to a report by the Content Marketing Institute, 49% of Australian marketers publish content either daily or multiple times per week. So, it's pretty obvious that breaking through content clutter means investing in marketing dollars to promote your own.
But even that's not enough. You need to get savvy on how to accurately reach your desired audience based on psychographic data. For example, men prefer YouTube and Reddit while women prefer Pinterest, Instagram and Facebook. And did you know that 72% of Australians use smartphones to access social media content? Optimising your content for hand held devices is key. On top of that it's imperative to know when to post, avoiding 'dead time zones'. Holy moly, you've really got to know your stuff. Perhaps the new mantra should be "Content is as cocky as a king of spades".
But there is one form of powerful content that seems to be gaining more popularity and user preference over others – Videos. User Generated, How-Tos, and Branded. According to Australian marketing statistics blog YouandCo.com, video views on social media have skyrocketed. Data shows that videos boost conversion and sales. Adding a video to your landing page can increase conversions by 80%. Cisco has predicted that by 2020, online video will account for over 80% of all consumer internet traffic. And 55% of people pay the most attention to video out of all content. Okeydokey. Time to update the mantra: Video is King Kong of Content. Furthermore, video content platforms YouTube's and Vimeo viewership increased a whopping 85% in the last two years. Youtube can boast 14M active Aussie users, with mobile users spending 40 minutes on an average session. 1 in 4 videos viewed end up being shared and each minute there are 400 Tweets containing a YouTube link. Impressive, isn't it?
To cut a long eNewsletter story short, content is NOT King unless you have a welldefined and planned out strategy on how to best approach reaching your desired audience, on which platform, through what device, and in which format. And one format not to be overlooked is video – fun, visual and snackable content which makes all the difference when convincing and converting potential leads. And we're not the only ones who think so. According to SMP.com.au, more than 60% of marketer's plan to increase their investment in video marketing in 2017.
Now here's a very important question to ask yourself as a brand, marketer and business owner: How will you be using video for your marketing in 2017? As the monarchs of all things content and beyond, Sidedoor can help you in becoming the 'King of the Content Jungle'.
– Julie Jackson and team