Collective: Brand – The Key Ingredient in Solving Staffing Woes?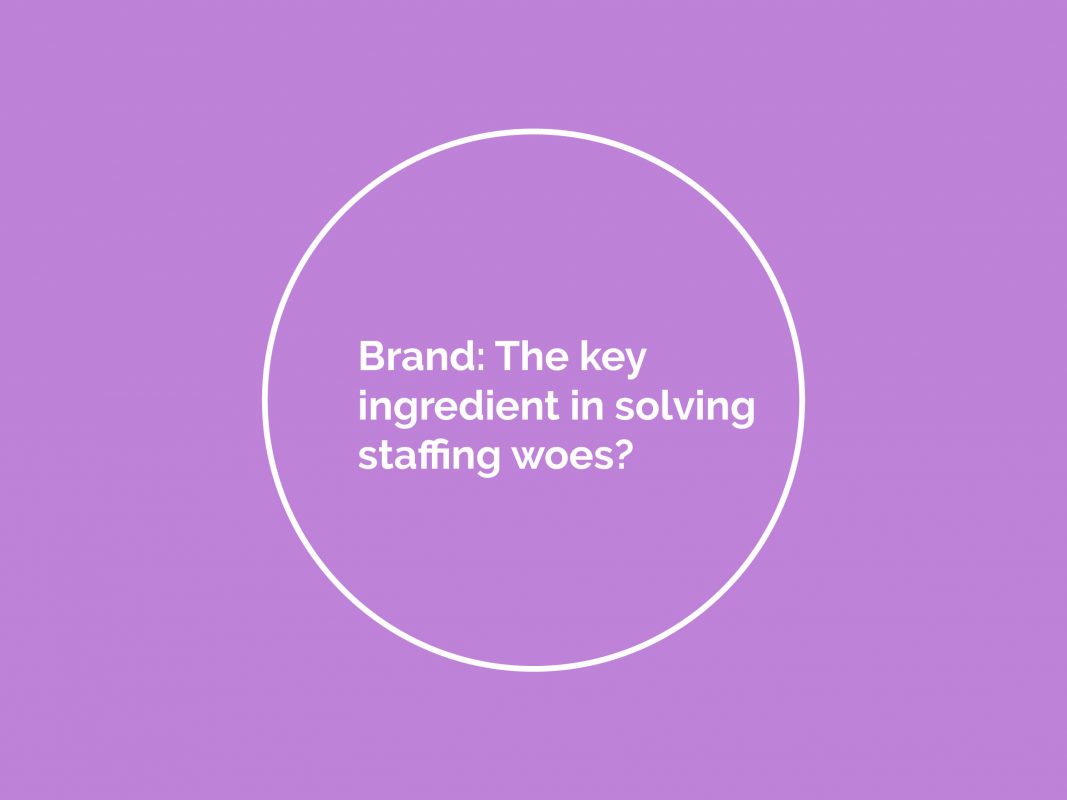 Talk to any business owner right now about their biggest challenge in business and undoubtably the most common answer you will get is 'people'.
Finding the right team, keeping their best staff, and reducing the attrition rate, managing underperforming personnel are all common issues.
In November 2021, the Australian Bureau of Statistics showed an increase of 18.5% in total job vacancies. For that particular quarter, that represented an extra 396,100 jobs on the market. There appears to be many seats to fill and seemingly fewer applicants willing to fill them.
Yet, for all the discussion surrounding the growing people problem for Australian businesses, there is one key ingredient that is completely left out of the conversation.
BRAND.
In a post-pandemic world where the power – in some ways – ultimately lies with the employee, a focus on brand and your organisations commitment to living brand values is perhaps the key differentiator that will make you an employer of choice in 2022 and beyond. There are many factors that we can't control, however, you can have a huge influence on how your brand is perceived in the market.
The idea of work/life balance is different now, and 'hybrid' is the new expectation. In addition, the things people value in their employment goes beyond titles and salaries, and the opportunities are no longer confined to geographic constraints.
Most are now asking about brand values to ensure they align with their own. This includes questions about brand culture, value proposition and sustainability policies and corporate social responsibility.
Let's explore the power of branding and how to improve your brand equity.
How Do Potential Employees View your Brand?
Ask yourself these questions:
What do your current and former staff think about working for you?
Have customers reviewed your business favourably?
How is your brand perceived in the market?
What does your website say about your brand? What about industry sites?
How would you rate your customer experience?
Digital platforms have now made it impossible for organisations to hide and create false perceptions. Reviews and social media engagement exposes many businesses and demonstrates their true brand values and culture.
Here are some handy tips to conducting a thorough brand health check. Some of these actions may take time, however transforming a business into a successful brand takes time.
Do you have current reviews/testimonials? What do they say and what is the sentiment within those reviews?
Define your customer journey – what are the brand touch points? How can this experience be improved at every stage?
What is your Net Promoter Score (NPS)? How can this be improved?
Evaluate your marketing content across all platforms. Does the narrative and visual execution of your content need work? Does it give a good representation of your business and your brand? Is it authentic?
Defining Your Company Values
In researching public perceptions of your organisation and what it's like to work for you or to be a client of yours, you may have to confront some uncomfortable truths. Your perception of your brand may differ to that of your employees and customers.
This is a perfect time to assess the following:
Have you defined your company values?
Does your brand have a system of beliefs?
If so, how does your business personify and live those values and beliefs?
When defining your company's values, you are sharing the best of what your company brings to society, your purpose and contribution. These values need to resonate across the business with buy-in from all employees – and it starts at the top.
In simple terms, how would you describe your brand values? Most companies that define their values break them down into words such as:
Excellence
Authenticity
Creativity
Leadership
Responsibility
Passion
Impact
Respect
Honesty
Once you've defined these values, it's easier to start implementing policies and procedures that are reflective of these values, drive outcomes that showcase these values, which in turn are perceived and interpreted by staff and customers alike.
Strong values also provide the foundation of a brand which can then be used to define the brand personality and develop marketing communications that are a true representation of the business. It also becomes easier to plan and make decisions about how you want to portray your business in your marketing content and across the customer journey.
Building Brand Equity: A sure-fire way to attract the best
Build your brand equity and give potential employees a proposition that they will be attracted to, a company that they want to work for because your values align, and the business behaviour supports those values.
In addition to attracting and retaining the best people, the long-term benefit of building brand equity also includes increased customer trust, loyalty, and engagement in your brand. It will lead to organic growth, leadership reputation and long-term gain in market share.
If you need to review your brand strategy, refresh your brand look and feel and improve your brand perception – talk to our team at Sidedoor.